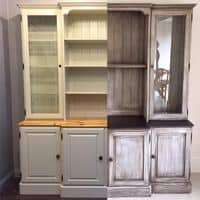 Shabby Chic Furniture
At Gloss Interiors we are always busy painting furniture, it's either a customer order or pieces we have sourced and want to give a gloss makeover (if you're reading this you've probably seen us in action!).
Because we do all our projects in store, we get lots and lots of interior design questions about how we make things look so beautiful. So… we thought it was worth sharing a few of our top tips!
1. Just have a go! Don't worry you wont ruin it! We hear this all the time but if you don't try you will never know how good you are! We use Grand Illusions Vintage Paint and trust us when we say it is so easy to use! Get a tester pot (you can get a dining chair with some to spare out of our tester pots!) and try something small like a stool first – you'll soon be hooked! Don't like the colour – Just paint over it. Our paint is based on an old milk paint recipe, so it's not thick and gloopy like some chalk based paints.
2. Keep & paint! If you like a piece of furniture you have but it doesn't fit with your new colour scheme or you've moved into a different style house, chances are you can paint it so it fits in again. Old furniture tends to be made very well, so we would suggest keeping it and transforming it into something you love again!
3. Don't like Shabby Chic? There are literally hundreds and thousands of paint effects and finishes you can achieve, so there will be something out there for everybody. Aged, antiqued, 2 colour aging, paint peeling… the list is endless. Take a look online for inspiration or Pinterest is a great place to find ideas. Don't forget if you're not sure, just drop us an email with a picture of the effect you want to achieve or pop into see us!
4. Scared of all the prep? Don't worry there is hardly any. Our paint is self-priming so no sanding required! Most pieces you can crack straight on with painting, however, if you think the piece you will be working on is very old or appears to have a build up of polish, wax or dirt then we would recommend a clean and 2 coats of Shellac Sealant. The shellac will seal your pieces and stop any stain seeping through your paintwork – its like starting from new!
Our paint range is Grand Illusions Vintage Paint www.grandillusions.co.uk
Prices
1 Litre Tin £18.95
Tester Pot £6.50
Shellac Sealant £8.95
Wax £8.95
Varnish £12.95
We know everyone gets very busy and that you might not get round to that big painting project. Don't worry we can help! If you would like us to quote to paint your furniture, or any other interior design services, just email us via the contact form on here with a picture of the piece(s) and rough dimensions with an idea of the sort of style you want it finished in and we'll do a no obligation quote for you!
Happy painting!